Hey cutie pies! Here's November's Glam Bag. The theme has something to do with parties or something. Enjoy!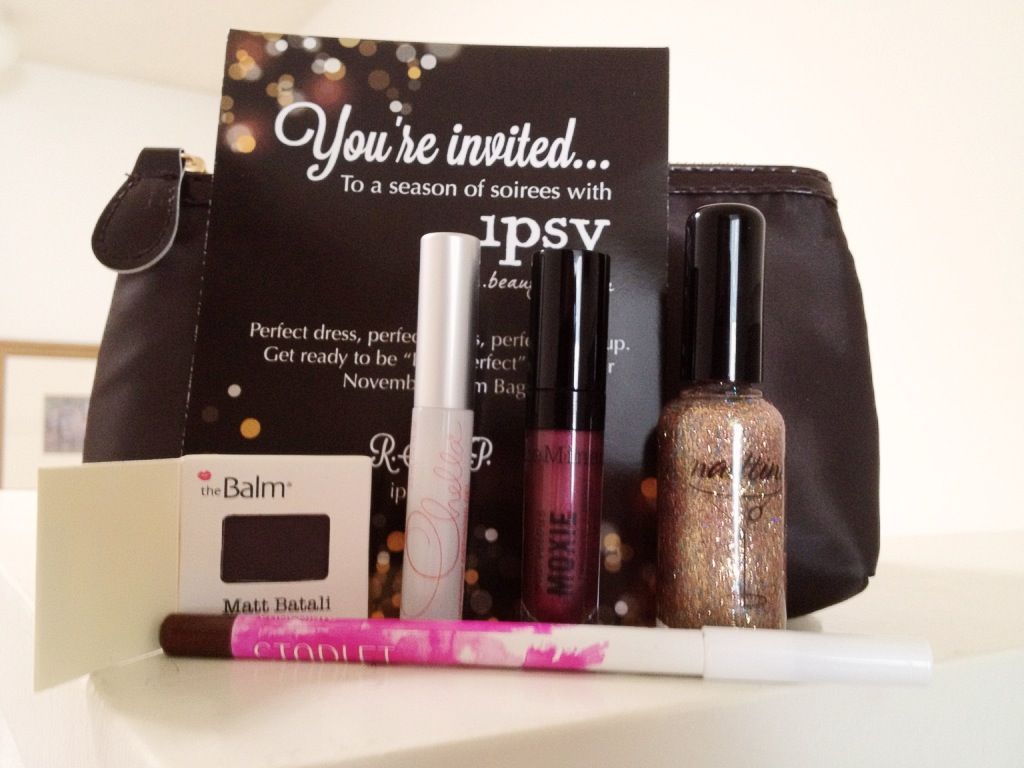 From L-R
1. theBalm Meet Matt(e) eyeshadow - It's a very nice, soft matte brown color that I'm actually considering using for eyebrows.
2. Starlet Intense Eyeliner - I haven't tried it but brown eyeliner is one of those things you can't have too many of... Just kidding. You totally can have too much and right now I think I own about 5 different brown eyeliners. My name is Nicole and I'm a brown eyeliner hoarder.
3. Chella Defining Eyebrow Gel - How many eyebrow gels can one woman own? Well... I've got about 3. I was really hoping I'd get the Benefit they're real! beyond Mascara sample tube but alas, I was not one of the lucky ones. Oh well, at least this is still useful.
4. bareMinerals Marvelous Moxie Lipgloss - I don't usually care for lipgloss (at least not anymore), but I actually really love this color so this is staying with me (sorry mom).
5. Nailtini Nail Lacquer in Millionaire - So I've been on this accent nail kick lately and it occurred to me just now that I could've used this as my accent color with my new manicure. Good one Nicole.
This bag wasn't too bad. It wasn't my favorite, but it's still better than the ones I used to get when they were still called My Glam.
Nicole x