Okay, I can't take it anymore. I need to share this little gem with all of you!
So you're probably going, "
Is this like a Noxema commercial or what?!
What the heck is MaqPro and what's so great about this palette?"
MaqPro (also known as
Le Maquillage Professionnel
) is a French cosmetics brand that makes high quality make-up products both for personal and professional use, including special effects make-up. I first found out about this brand when I was watching one of Pixiwoo's videos. Sam busted out this palette and I was instantly intrigued. I love creme products and I love anything that will make my make-up routine that much simpler and this little palette proved to do just that. The palette itself is compact so you can carry it around with you, wherever you go.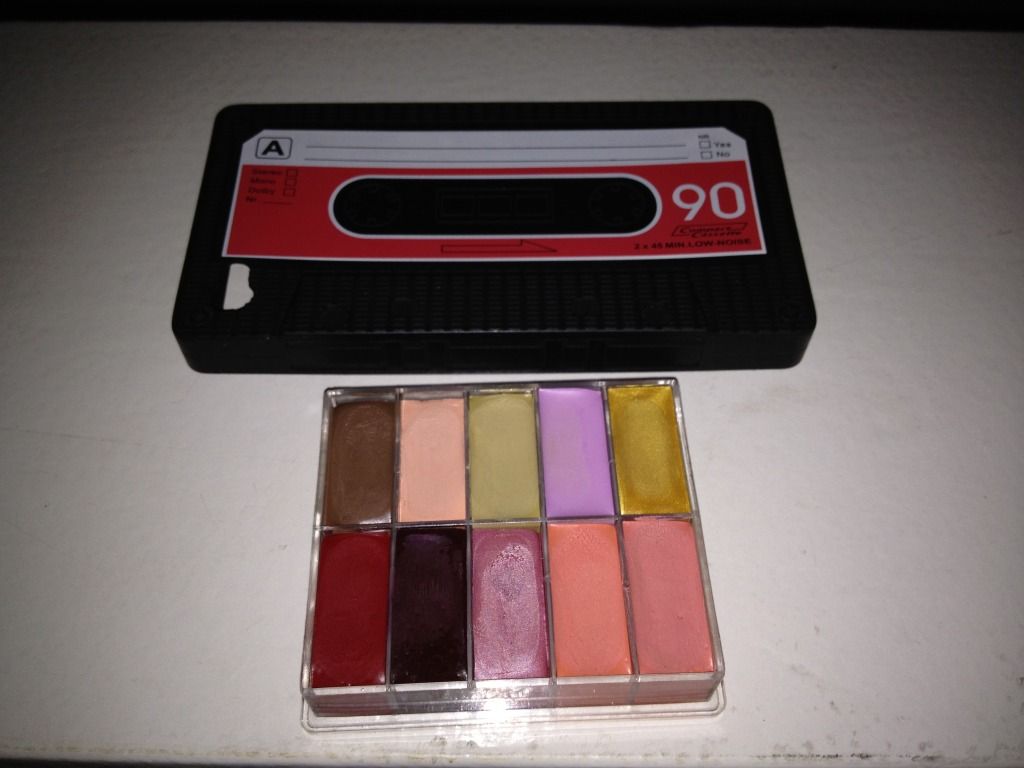 It's smaller than iPhone and fits perfectly in your make-up bag, small purse or clutch.
It is a multipurpose palette that comes with 10 different, highly pigmented colors and can be used for contouring, concealing, color correcting, blusher, lips, cheeks, eyes, etc. It is wax based, which makes the product go on so smoothly and blend beautifully. It doesn't cake up or dry out your skin. This is good for oily skin too. I just dust a bit of translucent powder on and I'm all set.
The packaging itself is very simple and understated (as with most pro products). The different colors don't have names and are just simply numbered. Many make-up artists have recommended this product to have in your kit, so you MUA (or aspiring ones) out there might want to look into this ;) I personally think this is also great if you're traveling and just can't be arsed to carry around multiple products in your bag. It's nice to have (almost) everything you need in one palette :D
Here are some swatches:
1.)
N117
- I use this mainly for contouring (which I learned from Sam of Pixiwoo). It is brilliant! The swatch looks so dark, and when you first apply it on, it's crazy dark and looks heavy. However, it blends so nicely into the skin and never leaves any harsh lines, leaving a nice, natural contoured look.
2.)
14
- This peace corrector works so well to conceal my dark under-eye circles.
3.)
CR
- I like this color corrector because it's not too green. It reminds me a lot of the corrector in the Sonia Kashuk Hidden Agenda Palette, except it doesn't dry out my skin.
4.)
15
- This lilac one is supposed to correct any sallow looking areas, but since I don't really have any, I don't use it much. Still good to have though and can be used to highlight some high points on your face.
5.)
09
- I've mixed this in with the brown one and it looks awesome as a creme bronzer. I've also tried it on my eyes.
6.)
N157
- This is a great red lip color. You can apply as little as you want to get that stained look, or you can apply as much as you want for a full red lip. You can also use a little bit for cheeks.
7.)
19
- This is a nice dark plum color. I haven't worn it out yet, but it's good if you want a darker lip for that vampy look ;)
8.)
2216
- This is a cool-toned pink with a bit of shimmer in it. I've used this color to mix in with the red if I don't want it to be too red. But it also looks good just by itself.
9.)
151
- I love love this for the cheeks. I like that it's matte too. I've used this on both my cheeks and lips. The downside is that if you wear it alone, it can dry out your lips, so do wear lip balm underneath ;)
10.)
152
- Another great color for lips and cheeks!
Here is a swatch of the brown and gold mixed together. It looks really pretty on the skin!
You can purchase this palette online at
Camera Ready Cosmetics
or at their store in La Mesa for $23.99. You can also purchase this online at
Precious About Make-Up
if you are in Europe. I purchased mine from Camera Ready Cosmetics.
To see more of MaqPro's products, check out their
catalog
.
Nicole x
UPDATE 25-Apr-14:
I just checked the Camera Ready Cosmetics website and they increased the price to $52.61. It's still £24.50 on Precious About Make-Up, but with International Shipping, it'll cost just about the same.