Eeks! Okay, so I'm really really terrible with this self-control thing when it comes to nail polishes. I mean, really bad. I hardly ever pass up on purchasing new colors that I like. I mean, it's even worse than my problem with make-up, which now I've got pretty much under control. It only took me three years, so I guess I'll just have to wait out this obsession with nails like I did with make-up.
I was looking through my timeline on Twitter and saw
Eugenia's
tweet on the new
OPI Germany collection
. She gave an exclusive sneak peek on the new collection, which will be available in August, just in time for the fall. By the way, Eugenia's blog is awesome. If you're ever looking for swatches of nail polishes, she's your woman. She makes even the strangest of colors look so good that you're convinced that you NEED it in your collection. I'm onto her... HAHA!
So where was I?
Oh yes, the OPI Holland Collection. Well after looking at the Germany collection, I remembered about the Holland one, which I saw earlier this year at Ulta. I didn't care too much for it back then because I was so caught up with getting all the colors from the Hunger Games collection. But since I'm impatient and can't for the Germany, I searched Eugenia's blog to see if she ever swatched the Holland collection. Luckily (or maybe not since I've just spent $40 on nail polishes), she did!
I didn't buy all of the colors, but if you're interested in seeing them all, the swatches are
here
and
here
.
Here are the shades that I bought:
From L-R: Vampsterdam, Dutch Ya Just Love OPI, Gouda Gouda Two Shoes, I Have a Herring Problem, Did You 'Ear About Van Gogh.
Aren't the names just so cute? Here's my fairly rushed swatches: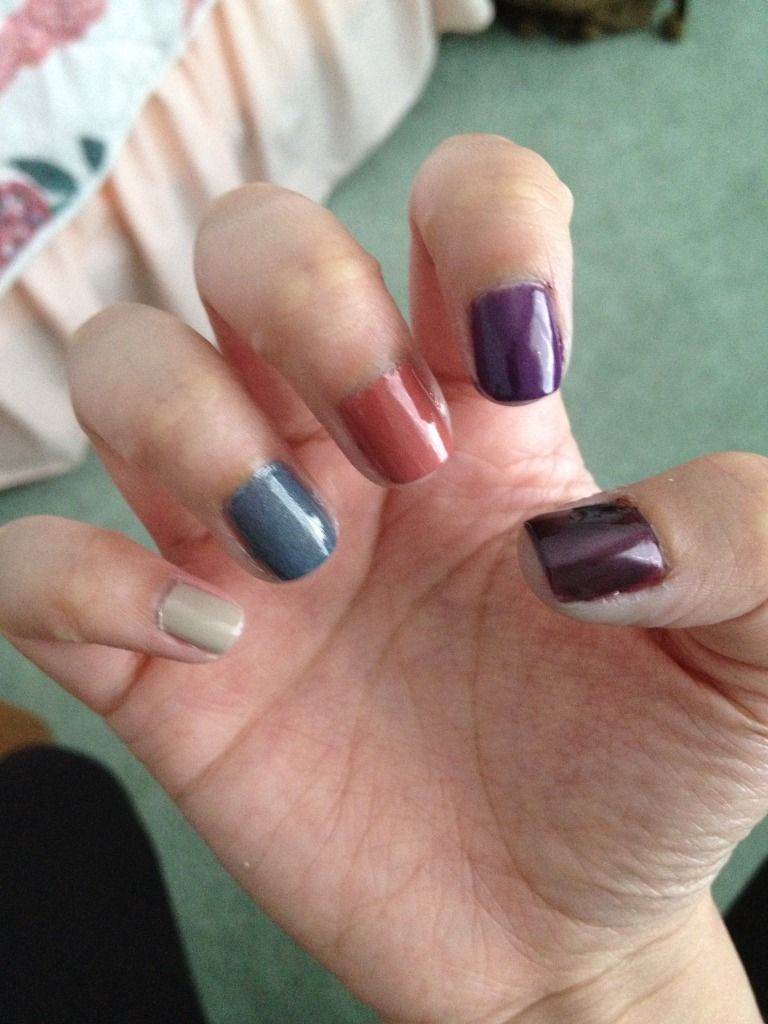 No flash. Please do excuse my poor manicure. And I am absolutely hating my short nails! One of my nails chipped and since I've got OCD, I needed to cut them all.
With flash. L-R: Van Gogh, Herring Problem, Gouda Two Shoes, Dutch Ya Love, Vampsterdam
I've ordered one more, which is Thanks a WindMillion, but since I got it from a different vendor, it didn't ship with those. I'll do a swatch of that as soon as I get it :)
So my favorite? Vampsterdam hands down. I mean, it's just so... Vampy! I've been saying it a lot, but I think that color is HOT. Also, surprisingly I love Did You 'Ear About Van Gogh.
All in all, I am extremely satisfied with this purchase. All the colors are brilliant and it makes me even more excited for the Germany collection. Hope you guys enjoyed that. Until next time!
-Nicole x x